There's little argument that Stone Cold Steve Austin is the biggest superstar to ever grace the WWE. During his run in the Attitude Era, he set records, won titles and got pops that have gone unrivaled since "The Rattlesnake" was raising hell at the height of pro wrestling.
At one point, Austin was in the main event of every PPV from February 1998 to September of 1999 except for one and that was the 1998 Survivor Series tournament where he lost in the semi-finals and The Rock turned corporate leading to one of the best payoffs ever at WrestleMania XV with Austin regaining the WWE title.
From 1997 to 2003, Austin was on a different level. If you were fortunate enough to be in attendance for a WWE show during that run, your ears were ringing. Black 'Austin 3:16' shirts flooded the arenas and fans were just waiting to erupt with cheers at seeing a "Stone Cold Stunner" and Austin crushing a couple of beers together while standing on the ring post.
With it being 3/16, it's only fitting we take a look at the best moments of Austin's career. There are so many memorable moments throughout Stone Cold's run that it's a tall task to narrow down the best matches and memories from his run. He drove every type of vehicle to give Vince McMahon hell, took on Mike Tyson, stunned every man and woman he came across and chugged a beer afterward.
He was the best.
Honorable Mention
Stone Cold impersonates a doctor and violates Mr. McMahon
Because why not? Stone Cold somehow gaining access to some scrubs and sticking a catheter up Mr. McMahon's bum is absolutely hilarious.
The Best Moments of Stone Cold Steve Austin
Stone Cold pours cement into Mr. McMahon's corvette
Only Austin could get access to a cement truck and then do an interview right before he commits vandalism to his boss' vehicle.
BANG 3:!6- Austin threatens to murder Mr. McMahon in the middle of the ring
This is perhaps one of the craziest and most amusing segments from the Attitude Era. Just the idea of this occurring is so ridiculous and borderline inappropriate for a wrestling show but how can you not love it?
A day after being fired at The 1998 Judgment Day PPV, Austin kidnaps McMahon, pushes him down the ramp in a wheelchair, puts him in the ring, ridicules him, pulls a gun out and threatens to blow McMahon's brains out and pulls the trigger and out comes a "Bang 3:16" flag  then McMahon pees his pants before getting a Stone Cold Stunner.
Just the idea of the crowd cheering at someone getting murdered in the ring is peak pro wrestling.
Austin gives McMahon the "stunner" for the first time
At the time, this was so huge because no one had ever done this to McMahon and this was when Austin was blowing up and apparently at the height of when everyone hated their boss.
Austin 3:16 is born
Stone Cold delivers his epic promo after defeating Jake Roberts at King of the Ring in 1996. The iconic Austin 3:16 shirts would boom in sales as a result.
WrestleMania XIII- Stone Cold refuses to tap out
The ole' double turn by Austin and Bret Hart is one of the coolest things in pro wrestling history. It was masterful. This moment made Austin a babyface when he refused to tap out to Bret Hart in a submission match, blood pouring down his face and ultimately passing out before taking a further beating by Hart. Austin regularly refers to this as his best match.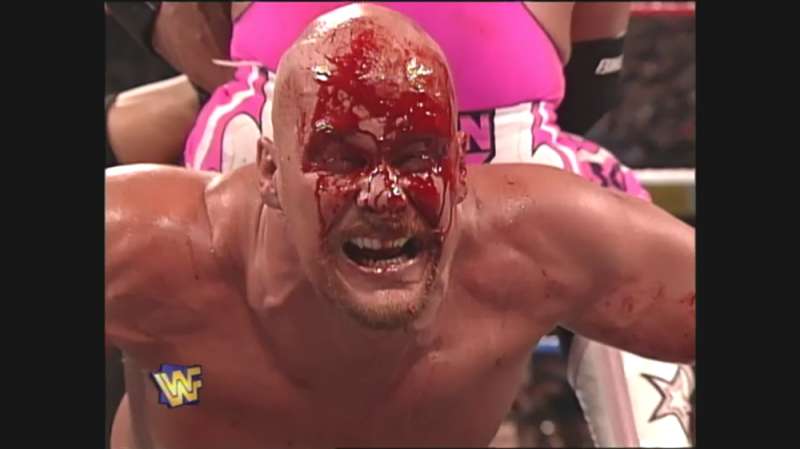 The biggest pop in WWE history (1/3/1999)
It may be remembered as the night that Mick Foley won the WWF championship for the first time but this was all about the monster pop the crowd gave when they heard the glass shatter and Austin come down and level The Rock with a chair shot and put Foley on top of him for the win. Loudest pop of all-time.
Austin says farewell at WrestleMania 19
For me, this is my all-time favorite Austin match simply because of the ending. Facing his biggest rival, The Rock, on the biggest stage, WrestleMania 19, Stone Cold took three Rock Bottoms before he was finally put away in what would be his last match.
What makes this special is there's a moment before the final Rock Bottom where he pauses with a limp Austin, giving fans one last glimpse of this warrior before it would end. Then after The Rock pins him, he pushes the referee away and has a private conversation with Austin where he told him he loved him and appreciated him before showing the ultimate sign of respect by leaving the ring to "The Rattlesnake."
Stone Cold drives a zamboni to the ring
Detroit Red Wings fans love their hockey, which is why when Austin drove a Red Wings zamboni to the ring to interrupt McMahon's championship presentation to the Undertaker and Kane, they lost it. After Austin, rams the zamboni into the side of the ring, he gets out and jumps over the cops to assault McMahon and then gets himself arrested. Fans went nuts as he was being escorted out of the building.
WrestleMania 17 video package with The Rock
Back in 2001, when people proudly admitted to liking Limp Bizkit, the greatest video package WWE has ever produced occurred. Building up a mega championship match between the company's two biggest stars and babyfaces for WrestleMania 17, WWE compiled incredible highlights with Limp Bizkit's "My Way" blaring over top of it. Ultimately, Austin would turn heel after the amazing match but the video package made it.
Still to this day, you can't help but get pumped up when you listen and watch this.
The Corporation gets a beer bath
If the zamboni isn't the most memorable Austin moment, this probably is. It's the epitome of Stone Cold. WWE and Corporate champ, The Rock, stands in the ring with Vince and Shane during the buildup to WrestleMania XV. Austin almost destroys the TitanTron while driving to the ring in a beer truck. Austin gets out and does a promo on top of the beer truck (of course) and then sprays the Corporation with a hose full of beer. Vince even starts swimming in the beer.
Classic Attitude Era moment.