Inside the I Heart Media studio on Nicholasville Road, "The Voice of the Kentucky Wildcats," Tom Leach, is wrapping up "The Leach Report." Leach, a 1983 graduate of UK, has guided the Big Blue Nation through moments of triumph and moments of heartache.
Through it all, Leach's booming voice has been there to comfort and provide analysis for the Kentucky faithful just like play-by-play announcer Cawood Ledford did for 39 years. One thing Ledford said that Leach has learned to be true.
"You sound better when they win."
Holding the job of the Kentucky football play-by-play announcer since 1997 and getting the Kentucky basketball gig in 2001, it's a role he had wanted since he was in middle school. Growing up as a Kentucky fan and Cincinnati Reds fan, he got his play-by-play training from the likes of Ledford, Ralph Hacker, Marty Brennaman, and Joe Nuxhall. Leach says it was better training than any class he could've taken.
"It's the job I always wanted as far back as I can remember," Leach said. "I don't think I fully appreciated how narrow the target was when I was in middle school. A lot of it has to be timing and people having faith in you. "
Long before he got to the UK Network and with baseball being his favorite sport and the realization that he wouldn't be playing MLB, Leach wanted to find a way to stay around sports.
He lobbied for a job at a Paris radio station doing Bourbon County and Paris football games. They finally gave in and hired him to keep stats and would let him on the air at halftime and postgame. Leach says it was basically to give the play-by-play and color guy a chance to go to the bathroom.
"I thought I was pretty good but I was awful," Leach said. "But that got me in the door and got a job working weekends to be a DJ, produce some news, do some commercials, a little bit of everything. It was a small station and I did that all through college and my first full-time job was in Mount Sterling. "
Retracing his career path, he says, "In the mid 90s, I had Jim [Host] critique a tape for me and he said, 'You're not ready for this.' The thing about Jim is that he's going to be straight with you. I remember at the time that it was a little deflating —because you're thinking. 'All my life, I've wanted this job and the guy who is going to hire me doesn't think I'm ready and what if this comes open sometime soon?'"
One high school in Lexington wanted to buy time on radio to do every game that season. They did that and Ralph [Hacker] encouraged Leach to take it. Looking back, Leach says it was great advice because he got to hone his skills doing a game every week.
"Like a golf swing, I got more repetitions and got better," Leach said. "By the time when the job did come open, I was better prepared and had improved to the point that Jim felt I was ready for it."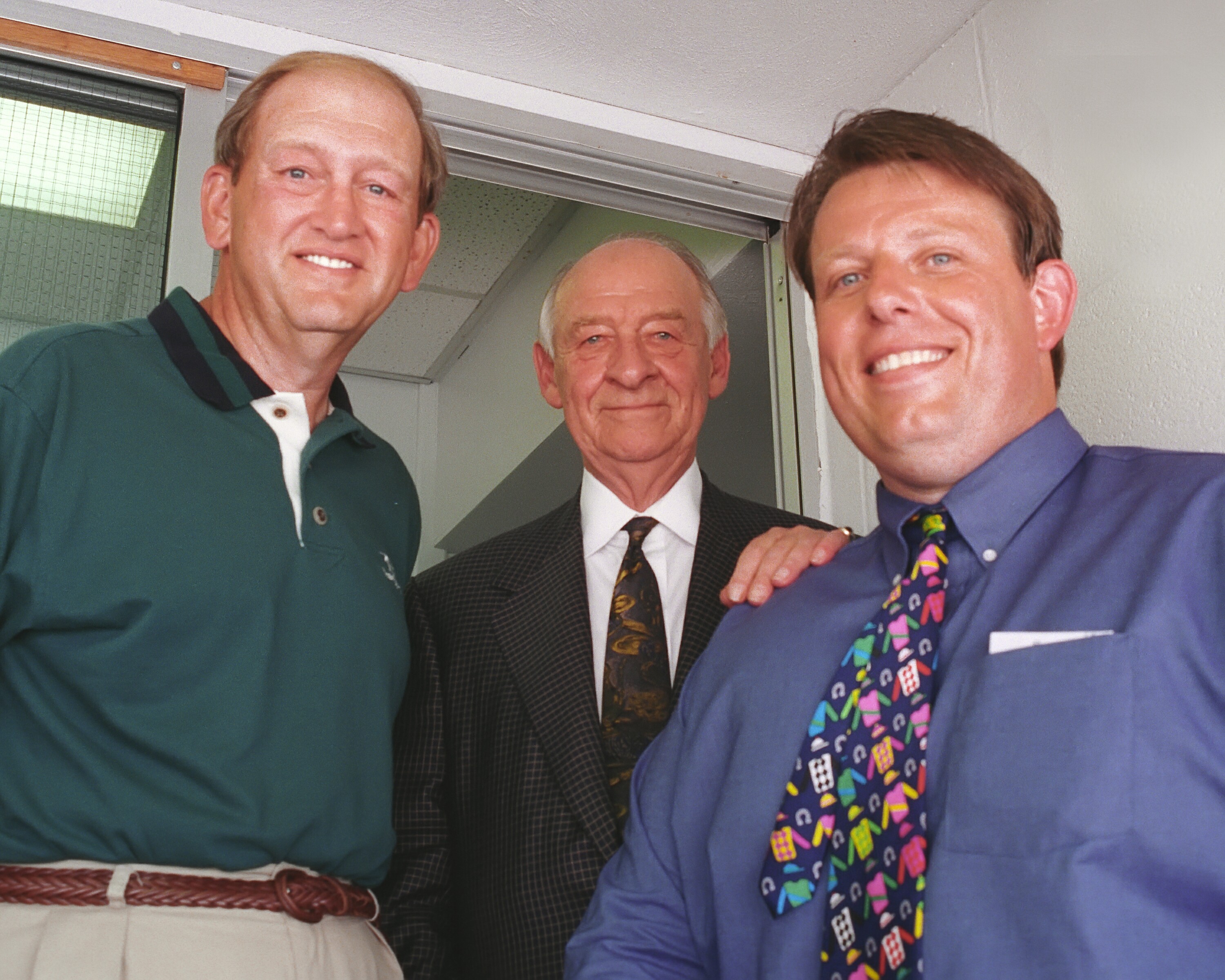 In the spring of 1997, Leach remembers interviewing for the Kentucky football announcers gig. He knew Ralph [Hacker] was in his corner but Jim Host was going to make that decision and wouldn't hesitate to go in a different direction if Leach wasn't the best candidate.
"I remember walking out and not having any idea if I had the job or not," Leach said. "I got the call and was very excited, and a few years later Jim said, 'Ralph is stepping down for basketball and I want you to do basketball.'"
When Host hired Leach, he referenced how Claude Sullivan would pore through the media guides for facts and nuggets of information. He told Leach the challenge is, 'Your listeners shouldn't read anything in the beat writer's story the next day that they had not already heard on your broadcast the day before.'"
Host would give Leach a one year contract to prove himself, the same time frame Host once asked for when he started working. Leach says, "I had mostly high school experience so it was a leap of faith for Jim. I didn't have as much of a resume of college work as other people who wanted the job. I knew I needed to do well to keep the job. I had the job, now I needed to keep the job."
There was no shortage of excitement in Leach's first game at the helm. There were plenty of fireworks in his first game as quarterback Tim Couch threw for three touchdowns in the first quarter for a 21-0 lead over arch rival Louisville in the launching of the "Air Raid" era under head coach Hal Mumme. You couldn't ask for a better way to start your career.
Leach says, "I always say I'm grateful to Tim Couch, Hal Mumme and Craig Yeast for a lot of great moments in my first year that helped ingratiate me with the Kentucky fans."
He does his homework.
"I've got a document on my computer I update on Sunday after every game and there's a heading of records that could fall today—last block punt, last fumble returned for a touchdown, last 50-yard field goal—all kinds of facts that I can easily access…
"Reading about the opponent, preparing the spotting board—and I do that by hand because that helps with the memorization process—I've got the Kentucky guys down usually by the time the season starts…The spotting boards are the ones Ralph gave me when I came to work for him in 1984 doing high school games."
He does not, however, practice his calls. "I think for a basketball game or a football game since there are so many ways it can end, that it will be very difficult to kind of script something. I try to take it as it comes. The one that was a little different was the 2012 NCAA Championship game down in New Orleans. I thought Kentucky would win the game so as the day went on, I tried to think of different things that might seem appropriate to wrap it up. I didn't write anything down, but I did think of it because something like that will have a life beyond the game."
Memorable Moments and Stories
Over the years, Leach is often asked about his most memorable moments on the job and which calls he has enjoyed the most. Without hesitation, Leach cites his list: The 2012 NCAA Championship, UK football upsetting No.1 and eventual national champion LSU, his debut against Louisville in football, Couch and Yeast helping UK beat Alabama for the first time, Tayshaun Prince's five threes against North Carolina in Leach's first basketball season.
However, during the John Calipari era, there's a special one that sticks out to the broadcaster–the Brandon Knight shot to upset No. 1 Ohio State in the Sweet 16 because even though the Wildcats still had to play the Tar Heels in the next game, he knew that was the game that would lead to calling his first Final Four.
"I'd been doing Kentucky games for about 10 years and hadn't been to a Final Four yet and I thought that was odd for a Kentucky basketball announcer so I was eager for it to happen," Leach said. "So when Brandon Knight hit that shot (vs Ohio State) I kind of thought in my head that it was going to happen."
Kentucky's exciting run to the national championship game as an eighth seed in the 2014 NCAA tournament stands out as some of the most exciting calls Leach has ever got to make.
"That was incredible because you figure once in a tournament, you might get one of those shots and it was game after game after game for Kentucky and Aaron Harrison," Leach said. "That was just an incredibly fun run to be on. I don't think I'll ever have a run like that again as a broadcaster where you have that many last-second shots."
You don't spend this many years in broadcast without some humorous stories or difficult interviews. In the early days of his UK career, Leach was doing a local pre-game show, covering the game, post-game, and a call-in show. It's a grueling workload for a single day so a lot of things were running through Leach's mind.
During the pre-game show, there are a lot of commercials Leach had to hit at certain times. While he was interviewing a play-by-play guy from Kentucky's opponent, Leach had asked him a question about the play-by-play guy's father who was also a broadcaster.
"I asked him a question that I'm thinking he's going to run with for awhile. In my head, I'm thinking of something else like hitting this spot break in two minutes and his answer was much shorter than I anticipated so it was back to me to say something," Leach said. "I froze and I gave the number for fans to call in except it wasn't a call-in show."
Calipari has never had a shortage of words to say when being interviewed and being quite candid, however, not all past Kentucky coaches were as easy to interview for Leach. The two years that Billy Gillispie coached the Wildcats provided many memorable and awkward interviews.
"There were odd circumstances interviewing Billy Gillispie as fans know," Leach said. "It sounded awkward on the air. But we actually got along much better off the air than it ever sounded on the air because he was a big horse racing fan. We connected over that."
His Love of Horse Racing
A love of horse racing is to be expected for Leach considering he grew up in Paris, home to Claiborne Farm. The famous farm was home to Secretariat, arguably the greatest thoroughbred of all-time.
Through some friends, Leach had connections to the famous farm and got exposed to horse racing very early in life. He still pauses while reflecting on the memories of seeing Secretariat posing for the photos as soon as he heard the clicking sound of the photographer's camera. Needless to say, Leach was a huge fan of Secretariat.
While in high school, Leach watched Seattle Slew and Affirmed make their mark through each leg of their chase for the Triple Crown that they would eventually win. He was just barely into the broadcasting business but knew he wanted to also covering horse racing and actually see a Triple Crown victory in person.
"As we went through the Triple Crown drought, I always said I'd like to see a Triple Crown winner and see that once and be there for it. In 2015, I thought about going but just couldn't work it out to get there and then I thought maybe I had missed my shot," Leach said. "Then this year, I started doing some work on the Triple Crown races with the Horse Racing Radio Network so I was working at Belmont and got to be there at trackside at the finish line for Justify."
When jockey Mike Smith and Justify were coming down the street and preparing to crossover into immortality as Larry Collmus described it, Leach took off his headphones to soak in the crowd noise. Leach says, "That was a cool moment to be there for."
Away From The Microphone
With a crazy demanding schedule, Leach is grateful that his family is very understanding. His wife, Robyn Rabbeth, is a former TV news anchor so she knows the hours that are required to work in media because she did it herself.
"I have a great family," Leach said. "The kids have been very understanding so I've been lucky in that regard. I love just being with the family because it's a job that is hot and cold so within the season, it's long hours so I enjoy the family time."
In regards to hobbies, Leach enjoys connecting with friends, some which go back all the way to first and second grade. He plays a little golf, he loves movies but usually doesn't get to see them until the seasons are over.
His love of horses also has him doing some work for Keeneland and in the summer, he gets more into racing. Summer is when Leach family vacations take place because from the middle of August until after the Kentucky Derby, Leach is in 24/7 mode.
A rabid fanbase like the Big Blue Nation talks Kentucky sports all day long and knows the whereabouts of every prominent Kentucky sports figure. Leach understands the passion and what comes with being "the voice" for the people.
"The Big Blue Nation has been great to me," Leach said. "People ask me if I ever get tired of talking about it. I don't. Even when a season or a game doesn't go well, you get invested in a team just like fans do but I'm never in a hurry for the season to end because I got into this to do play-by-play and I only get to do that about 50 times a year so I try not to take it for granted. I still look forward to it. I enjoy the preparation just as much as the games."
The Future
After 41 years in the business, it's no longer a matter of chasing a dream for Leach. He achieved it. He got the job and he kept it. He will be at the helm for as long as he wants. But like all successful people, Leach has no plans to become complacent or lower the bar for his performance. As Leach tells it, his main motivation after 41 years is "to stay at a high level."
"The thing with Claude Sullivan and Cawood Ledford, they set the bar high. Ralph continued that. The Kentucky fans are going to let you know if you're not doing the job because they expect excellence from their teams and their broadcasters and everything. I want to be able to stay at a high level and know when it's time to step away because inevitably, "Father Time" is undefeated.
As far as the future, you never know where it will take you but at the moment, I love what I'm doing and I hope to continue to do it at a high level and going back to the Cawood line, 'You sound better when they win' and John Calipari has made us sound very good and Mark Stoops is making me sound very good the last few years in football."