He is considered the best wrestler in the world. Gaining his notoriety in TNA, New Japan and Ring of Honor, fans wondered if his legacy would finally be cemented in the WWE. It may have taken a long time to get here but WWE Champion A.J. Styles has reached the pentacle of this business.
From "Mr. TNA" to the leader of Bullet Club to being "The Champ That Runs The Camp", Styles is at the top of his game and in the midst of a WWE Championship reign that is over 280 days long and he has no intentions of giving up that spot he earned–the one that Vince McMahon didn't expect him to fill when he signed him back in 2016.
Back at his house in Georgia and with his daughter laying on him watching her iPad, Styles opens up about SummerSlam, juggling family life in WWE, being the one that Vince McMahon depends on, his love of gaming, wrestling memorabilia and his future.
Dirtfork: What can we expect at SummerSlam considering you and Samoa Joe have quite the history?
AJ Styles: It's going to be exciting, there's no doubt about that. You got two guys in there have a lot of history together and aren't afraid to punch each other in the face. We're in the entertainment business but there's going to be some hard-hitting.
Dirtfork: How does this run as WWE Champion compare to your first run?
AJ Styles: I can tell you, man. The first is always the most exciting but the second time around, I feel like it has been the most awarding. Winning the WWE Championship from Jinder Mahal in England is something that WWE never had before. Pretty cool. Holding it now, I'm the longest reigning WWE SmackDown champion in history so that is also very cool.
I enjoy being the guy that people depend on. That's rewarding to me. To be able to hold on to the championship this long means I'm doing something right. I'm just going to keep doing what I'm doing. My job is to make sure that people are entertained and at SummerSlam, it will be no different. I can promise you that.
Dirtfork: When you're performing at one of WWE's iconic PPVs like SummerSlam or WrestleMania, do you feel you kick it into another gear as a performer?
A.J. Styles: Some people don't want to hear this but I've been doing this for 19 years, it's not often I get those butterflies anymore. But when I do, it's the best feeling in the world, knowing I'm going to get more energy and react a bit faster, stuff like that makes a big difference in this business especially at my age. It's the fans that really get me going, knowing how crazy they're going to be and how involved in the match they're going to be, it's really fun.
Dirtfork: During your feud with Samoa Joe, the fact that you're a family man has been brought up. Do your kids just see you as 'Dad' or do they get caught up in the WWE persona?
A.J. Styles: My kids just see me as dad and nothing else. Awkwardly enough though, as far as their friends, no one sees me that way. It's 'A.J. Styles' as they see on television. When I go to football practices, the kids always want an autograph or something, which is cool. But I've been doing this their whole lives. They don't know anything different. I'd like to tell you that I'm super cool but according to my kids, I am not.
Dirtfork: Does parenting get easier?
A.J. Styles: It gets a lot easier. There are so many times I wish I could keep them at this age. It gets more fun as they get older. You're having adult conversations and stuff like that and seeing them treat each other bad and good, I believe it gets easier but then again, I'm gone for over 200 days a year [laughs]."
Dirtfork: Having just celebrated your 18th anniversary with your wife, what do you like to do on your date night with Mrs. Styles?
A.J. Styles: Sometimes it's just going out to any restaurant and just having time for us, just talking and having a decent meal without having to cut somebody's steak or get on to somebody for not eating their food. Sometimes we just go out and look around. We don't even do anything. It's just being together and taking that time to enjoy each other's company.
Dirtfork: You're on the road a lot and have a demanding schedule as the champ so what does the 'Phenomenal One' do to unwind?
A.J. Styles: Literally as you and I are talking, my daughter is laying on me and watching her iPad and I love that. To decompress, I don't get to see football games because I'm working so I go watch practices and I'll sit and watch my boys playing football.
Playing video games is another thing of mine. I have a show on UpUpDownDown, Xaviers Woods' channel, called Retro Styles. I basically just show off retro video game stores and I collect retro video games and consoles. So, I have a couple of hobbies that keep me busy and keep me out of trouble.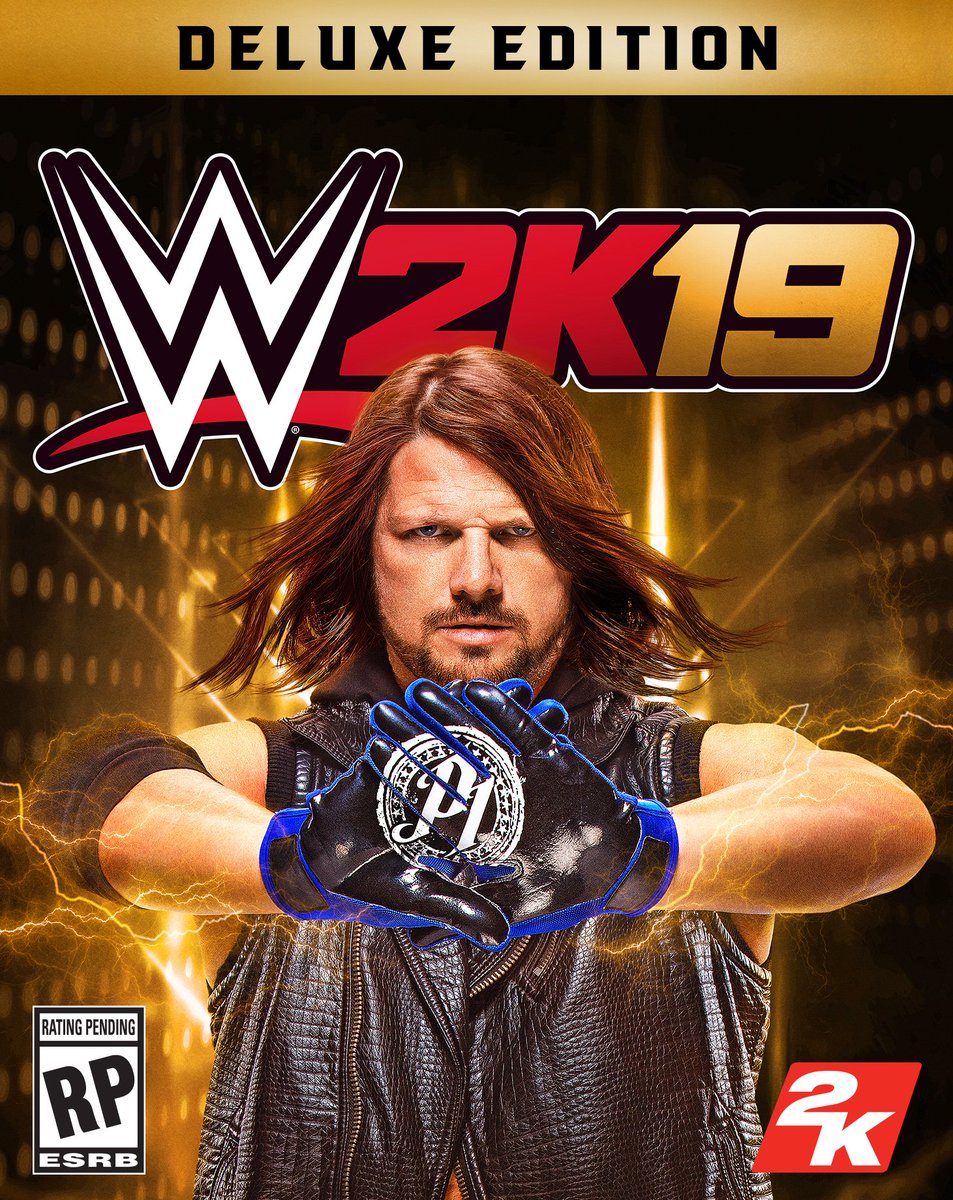 Dirtfork: You're on the cover of WWE2K19. How did that come to be?
A.J. Styles: They knew I'm a huge gamer. They know I enjoy video games so I think that had something to do with it. It's huge for me. It's one thing to have an action figure. It's another thing to be in a video game. I'm on the cover of a video game. It's one of those things that I never thought I would never achieve and can now mark off my bucket list.
Dirtfork: Are you going to get that framed and put in your house?
A.J. Styles: Oh, for sure. There's no doubt that's going to happen.
Dirtfork: Do you have a lot of wrestling memorabilia in your house or does your wife veto that idea?
A.J. Styles: The one thing both her and I agree on. We have so many things we never thought we would have but we have them because of pro wrestling. This is what done it for me. I have a house where every kid has their own bedroom. There are just a lot of things I thought as a kid growing up in a trailer that I would have and WWE has certainly helped with that.
As you walk downstairs to the man cave, you're going to see some old posters from wrestling that I'm in. I don't really want anyone else's posters so I'm in those and I have a lot more I need to put up. My first action figure I ever had is in a shadow case. There are a lot of things that will be on the walls as soon as I have time to put them up.
Dirtfork: Do you still have the championships you have won throughout your pro wrestling career?
A.J. Styles: I do not. Those aren't for free or anything like that. So, I don't have the championships but for me, I collect posters that I'm on and that's from TNA, New Japan, you name it, I enjoy having those and I think that's really cool memorabilia that you can just set up and look at and go, 'Wow. I remember that.'
Dirtfork: You've been blessed financially as being one of the best in pro wrestling. What do you recall purchasing with your first big payday?
A.J. Styles: I did set goals like being able to pay off my house. That's huge and I've done that. I own my own house. It's paid for. That's a huge accomplishment. People don't pay off their houses until they're in their 60s sometimes. To be able to do that in my 40s is a huge accomplishment.
Dirtfork: What's a Vince McMahon story you can tell us?
A.J. Styles: From my understanding, I was looked at as a mid-card at best in the WWE. That was the plan and I was okay with that because it was still a great job, a great payday and a great way to take care of my family. I didn't necessarily think that's where I was going to be but there was that time when I made my debut and fans knew who I was in Orlando. They made some noise and it was pretty great. Vince [McMahon] assumed it was a fluke. He didn't think too much of A.J. Styles.
I don't even think I was supposed to be on Raw that next Monday. But the turning point where Vince really saw something in me was when I had a regular match, a babyface match, went out and did my thing. I came back to gorilla and Vince says, 'Come here for a second. I've got other guys who can do exactly what you just did out there. You didn't do anything special. I need a pit bull. I need a guy who just attacks. I need a guy who gets after it.'
I said, 'Well, I know that guy. I know exactly who that guy is' and there was the opportunity to be on Miz TV and I handled it just like I was ready to eat this guy's lunch and basically, I think the way that turned out was the turning point for Vince. The next thing you know, after WrestleMania, I'm beating Chris Jericho and I'm the No. 1 contender for the WWE Championship against Roman Reigns where we had a couple of fantastic matches. That was the turning point. That's when things changed and that's how I became the A.J. Styles that you know now.
Dirtfork: You've won everything there is to win in pro wrestling. How do you stay motivated while being WWE Champion?
A.J. Styles: I'm motivated because I always feel like I have a chip on my shoulder from things that have happened in the past. The truth is, this is something I have dealt with my whole life. I've never been the biggest guy. I'm the runt of my family. I was the smallest brother. I've just always done everything with a chip on my shoulder and a little bit harder than everybody else and that's what keeps me motivated. Because I know how people have looked at me and that makes me want to train harder, work harder and take nothing for granted and makes me want to earn everything.
WWE SummerSlam 2018 comes to the Barclays Center in Brooklyn, N.Y., for a fourth consecutive year on Sunday, Aug. 19, and will be streamed around the world on WWE Network.
Samoa Joe has set his destructive sights on the WWE Championship, a path will put him on a collision course with none other than AJ Styles at SummerSlam.