With the 144th annual Kentucky Derby just days away, celebrities and people from all over the country will flock to Louisville's Churchill Downs in their expensive Derby hats and suits for a chance to experience "the most exciting two minutes in sports."
It's quite the spectacle, it's a fun weekend especially for Kentuckians as everyone goes "big" in every aspect of Derby week. But what's the most extravagant thing about the event that is already obscene in its excess, is the hidden mansion at Churchill Downs.
Held behind a secret door that is heavily protected by security, the mansion has become more exclusive than Millionaire's Row, which used to be the highest status symbol for the Derby.
You have to be invited to purchase a ticket to be in the room and it can be as much as $14,000 and you have to sign a three-year commitment to the Derby weekend festivities. It almost sounds like something you'd expect for "The Skulls."
When you arrive, you get your own concierge that takes you around with a golf cart toward the red carpet.  There's a private elevator leading up to the room and you're given champagne while you wait. It sounds like an over the top movie but it's legit.
Inside, there is an incredible view of downtown and of the track. There's buffet stationed all throughout the clubhouse and they have flown in bartenders and chefs from all over the world.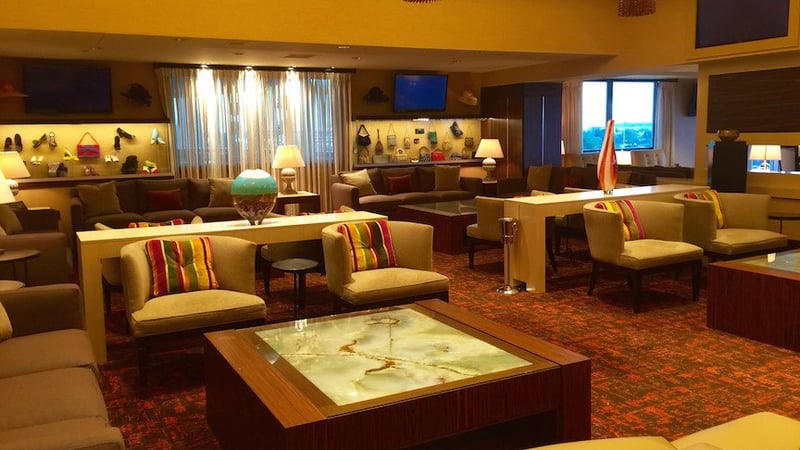 Guests are given a betting advisor to help you place bets and tell you about the horses and jockeys and the odds. There's also a Chanel counter inside the women's room as well as a seamstress to help the ladies with their outfit troubles. You can also see the trophy for the Kentucky Derby winner.
Upon exiting the room, you have to be with your personal concierge and there are no lines to get Mint Juleps or go to the bathroom, which apparently smells like lavender and sunshine.
You have to be somebody to get into this club, obviously. It's quite the contrast of those who attend the Kentucky Derby and go to the infield, which could be summed up as being like The Hunger Games.