When one hears the words "National Wrestling Alliance", it's hard not to think of history. With the NWA closing in on its 70th Anniversary Show in late October with a title that can be connected back even further, the NWA certainly has its share of historic events and memorable champions. With former legends such as Ric Flair, Dusty Rhodes, Lou Thesz, Buddy Rogers, and Harley Race being just some of the names to hold the NWA Worlds Heavyweight Championship, the sheer weight of expectations could wear down the wrong kind of champion.
Nick Aldis has not been the wrong kind of champion. Under the guidance of William Patrick Corgan, the NWA itself has achieved a renaissance of sorts in this digital age after wallowing in obscurity for far too long. While Billy Corgan is best known for fronting The Smashing Pumpkins, he and Vice President David Lagana have done an incredible job in showcasing the storytelling that made earlier incarnations of the NWA so great in the first place. With their guidance, Nick Aldis has really shined in bringing the fabled Ten Pounds of Gold back to relevancy, though he will face his toughest test yet at the independent wrestling megashow, All In. At the soon-to-be iconic showcase, Nick Aldis will defend his title against Cody in front of a 10,000+ strong, sold out crowd at the Sears Centre. Cody is of course no stranger to the NWA, as he is the son of one of its historic former champions, Dusty Rhodes.
In the days leading up to such an unprecedented extravaganza for independent wrestling, the NWA has posted a miniseries entitled "All Incoming" in order to highlight the build between Aldis and Cody's title match. As Nick Aldis continued to successfully defend his title against Ken Anderson, a former champion in multiple high level promotions, Cody was shown training with Ray Lloyd and Diamond Dallas Page to better prepare himself for Aldis' physical nature. For both men, the match at All In represents a potentially career-defining moment.
As Aldis describes it in the "Do The Work" episode, "This is the biggest match of my career. This is the biggest moment of my career. Getting to walk into that building with the NWA World Championship is a combination of so many things. And it's an achievement on so many levels. It's not just about me earning that spot of being a headline attraction at this historic event. It's also proof that I could carry that championship in the way that I've said I was going to do it. I was going to make it mean something again."
Cody refers to the match as "the biggest match personally and professionally", between having such a huge stake in All In itself and having an opportunity to win such a historic championship at an event that will be tied to him for the rest of his career.
As Cody and the Young Bucks, Matt and Nick Jackson, have repeatedly stated; there hasn't been an event quite like All In. The show is somewhat of a WrestleMania-esque event, but for independent wrestling rather than a single entity such as the WWE. Without even addressing the accompanying Starrcast convention, All In itself has morphed into what can best be described as the biggest independent wrestling show of this modern era.
With a main card featuring matches such as The Young Bucks and Kota Ibushi vs. Rey Mysterio, Fenix, and Bandido, Marty Scurll vs. Kazuchika Okada, Britt Baker vs. Tessa Blanchard vs. Madison Rayne vs. Chelsea Green, and Kenny Omega vs. Pentagon Jr., the card has something for every type of fan. As Billy Corgan put it in the "Freedom For All" episode of All Incoming, "All In is that signature event and we will look back historically and recognize that something shifted, and it shifted that day they sold those tickets in 30 minutes."
On the biggest independent wrestling stage yet, the fabled "Ten Pounds of Gold" has a spotlight it hasn't been provided with in years. While the historical significance of All In already can't be denied, and the history of the NWA may draw fans eyes to the match, it is the unparalleled storytelling that will keep those eyes focused on what happens next with the title.
Aside from the great miniseries for All Incoming, the NWA's YouTube channel has been a godsend for wrestling fans since Corgan's purchase of the entity. When one thinks of the great champions from the NWA's past, one also thinks of the great stories associated with them, whether or not every story was told strictly within the NWA. Even with Nick Aldis' current reign, the NWA has succeeded in telling gripping stories about his passion for the title, and what it means to him to have it restored to prominence.
As the son of The American Dream Dusty Rhodes, The American Nightmare Cody also has the chance to tell one of the best stories yet as a future victory seems almost predestined. As we saw with Aldis' first championship opportunity against then-champion Tim Storm, however, nothing is truly guaranteed. Despite being a former top champion in multiple promotions, and even ranking as the 8th best singles wrestler in the Pro Wrestling Illustrated Top 500 in 2014, Aldis hasn't always been afforded the respect he's earned as a top guy.
With a victory at All In, he could silence any lingering, unwarranted doubts about his status, and truly cement his run with the gold as legendary. In Cody's case, a win represents a sort of parallel to his father's iconic achievements that simply wouldn't have been possible without his current run of circumstances. If he wins at All In, the NWA has the opportunity to tell deep stories that interconnect the history of the beloved Dusty Rhodes with a new era ruled by his son, who would arguably have more momentum than any other wrestler in the independent scene with a successful event.
For Cody, a win of the NWA World Heavyweight Championship with its current prestige would help him truly start cementing a legacy when coupled with such a significant event that he helped create. There's almost no realistic, currently available venue that might aid the belt's prestige more than All In, unless of course we look ahead to Madison Square Garden. Ring of Honor and New Japan Pro Wrestling have announced a jointly produced G1 Supercard at Madison Square Garden in April of 2019.
While All In would make a win by Cody an unparalleled achievement, possibly winning the title or successfully defending it at "The World's Most Famous Arena", would only boost the belt's prestige even further. After all, Dusty Rhodes himself had several major matches with then-WWWF Champion "Superstar" Billy Graham at the venue, including a historic Texas Bullrope (strap) match with him after Graham had lost his title to Bob Backlund. The NWA has already shown a willingness to think outside of the box with its storytelling with Tim Storm and Jocephus even competing in a brutal, empty arena match. Maybe a future callback to Dusty and Superstar in Madison Square Garden with Aldis and Cody using the Texas Bullrope wouldn't be so crazy.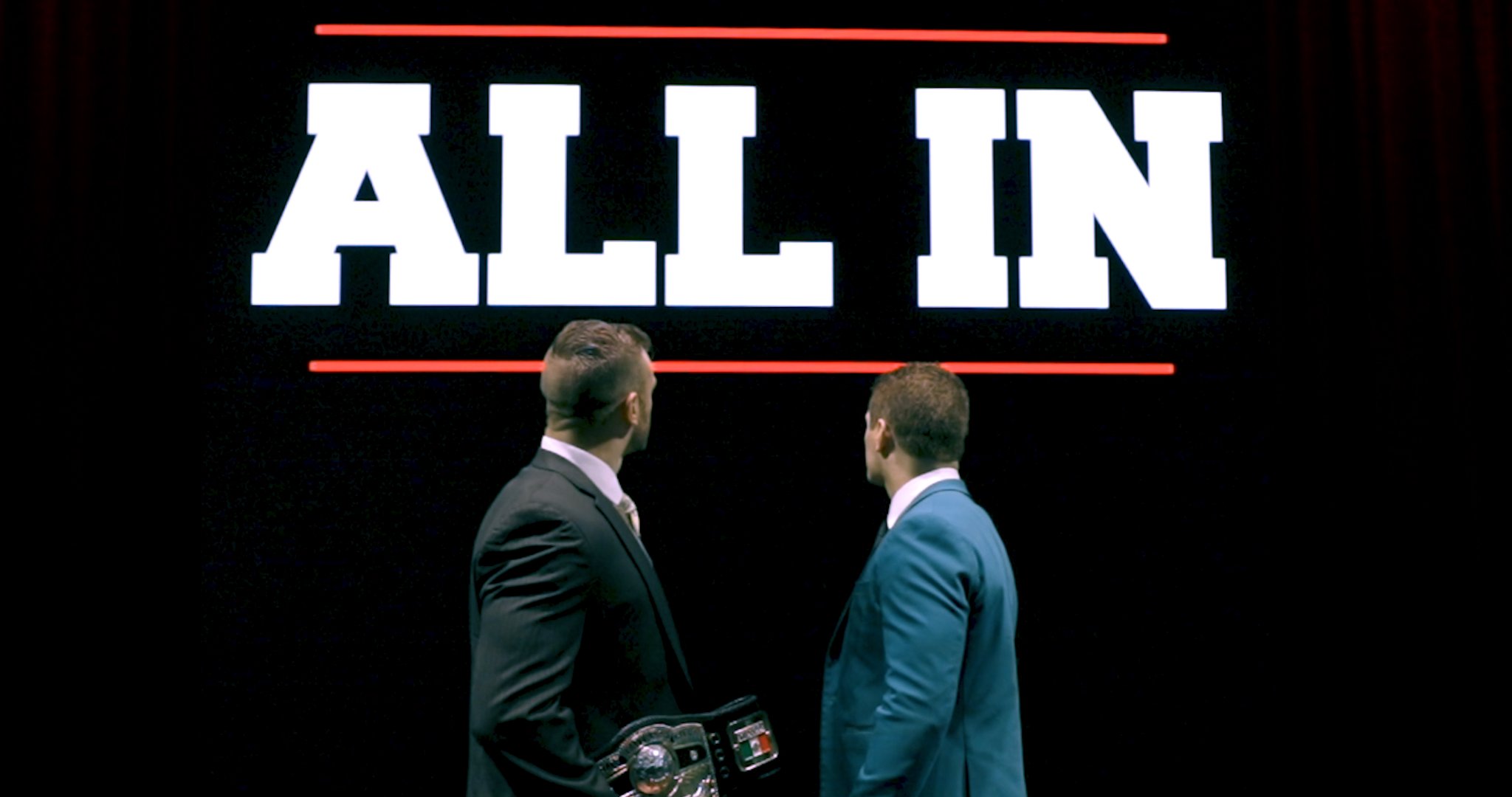 Nick Aldis has been a terrific representative for the National Wrestling Alliance in carrying the legendary title to heights it hasn't seen in years. Facing Cody at All In represents his biggest challenge yet as champion, and arguably the biggest match of his career. For both men, winning at All In is a chance to truly ascend to new heights in their careers, as just being a part of it has already set them up so well.
For Nick Aldis, a win would entirely cement his title reign as the most significant NWA reign in recent memory, and he will have succeeded in returning the belt to its former glory. For Cody, a win would mean that The American Nightmare would succeed in capturing gold that his father once owned and traded with other legends. In helping create All In, and in having such a strong independent run, Cody's own legend is already growing. With a win over Nick Aldis, Cody may truly usher in a new era of independent wrestling. No matter who wins, the National Wrestling Alliance will be here to take us all through the next steps of this incredible journey.
Network:
HonorClub, PPV, Fite TV, WGN (Pre-Show)
Event Date:
September 1, 2018 at 6:00pm EDT