One of the best things about professional wrestling is the knowledge that anything can happen on any given night. At the Royal Rumble, this is exemplified in the surprise returns of beloved veterans and shock debuts of new superstars. During WrestleMania season it typically means a big moment, like the classic double-turn of Bret Hart and Stone Cold Steve Austin, Daniel Bryan conquering Triple H, or Seth Rollins' main event cash-in. While we could see no shortage of crazy moments this year, another aspect of WrestleMania, typically in the RAW and SmackDown Live immediately following, is the call-ups.
While NXT call-ups can take place at any time, the post-WrestleMania shows can act as a soft reset of both brands with an injection of fresh talent. While WWE may have their own plans, we can always project our own ideas as to what some of these call-ups might look like, either in the post-WrestleMania shows, or in the months ahead. So with that in mind, let's take a look at what NXT stars might be in line for a call-up in the coming months, and what things might actually look like based on the current roster structure.
Authors of Pain (with or without Paul Ellering)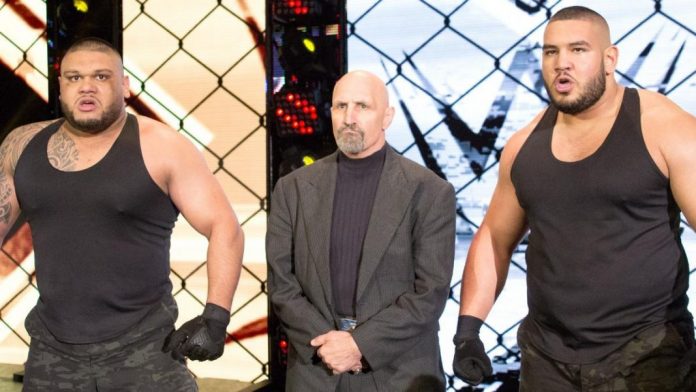 In my personal opinion, this call-up is overdue. Akam and Rezar have consistently improved throughout their time in NXT, have already won the Dusty Rhodes Tag Team Classic in 2016, and have already been NXT Tag Team Champions. With newer teams starting to become the focus of NXT storylines, and new signees like War Machine yet to be injected into the mix, the NXT tag scene is getting stronger, and AoP could be unleashed on the roster as early as the night after WrestleMania.
While the WWE has announced a RAW Tag Team Championship match between The Hardys and The Bar at their upcoming Greatest Royal Rumble event, plans can always change on a whim. After all, at the time of this writing, it's entirely possible The Bar may not be the titleholders by then. With the Bludgeon Brothers being built up as the resident monster team on SmackDown Live, the Authors of Pain could be similarly built up on RAW to take that role and help give the RAW tag scene a massive power boost and the means to get other teams on television as well.
Maybe Rhyno tries to toughen up Heath Slater with tag matches against an underestimated rookie team, or The Club tries to put them in their place. Alternatively a similar approach can be taken as with Harper and Rowan where they dismantle local talent before slowly working their way up to the top.
As for Paul Ellering, I would love to see him remain as the team's mouthpiece to draw in fans who may not otherwise watch NXT. Keeping him in the mix gives the Authors of Pain some legitimacy right off the bat with some casual viewers who may remember the Legion of Doom. If Ellering opts not to join them for any reason, or if WWE decides to bring them up alone, they could easily stick to pre-produced vignettes and let their destruction speak on their behalf. Personally, I'm rooting for Ellering to guide them to victory as he has in the past.
SAnitY (with or without Nikki Cross)
With the success of Matt Hardy and Bray Wyatt's "Ultimate Deletion", SAnitY may also have its pathway to the main roster already drawn out. While Bray has yet to reemerge, either with a new character or new motivation at this point, SAnitY could provide the conduit for him to have a soft reboot, directly or indirectly.
As much as I'm personally a fan of Nikki Cross, I would actually have her stay in NXT. While Nikki brings a unique madness to the group, I think that for the main roster, SAnitY's need for her as a member could entirely depend on how they are used. If Bray Wyatt joins the side of the Woken Warriors in teaming up with Woken Matt Hardy due to the storyline and potentially the recently cleared Jeff Hardy (maybe as Brother Nero?), SAnitY could be the instigators of a new "Great War" for House Hardy to conquer.
Eric Young, Killian Dain, and Alexander Wolfe add even more options to RAW's tag team scene, especially when paired with an Authors of Pain call-up., but their main focus should be dealing with the Woken/Broken Universe of the Hardys. If Nikki is kept in NXT to provide a fresh title challenger, Bray could just as easily join forces with SAnitY without taking away from Eric Young's current leadership status rather than joining with the Hardys.
With long-term storytelling, dissension between Young and Wyatt could lead to similar Wyatt Family stories that had been told in the past. If Bray joins the Hardys it could usher in a unique and wonderful variation of faction warfare. If Nikki is called up, she could simply retain her role as SAnitY's wildcard, or become a force in the RAW women's division.
Peyton Royce and Billie Kay
The Iconic Duo may not be an immediate call-up, but one could easily argue that they should already be on the main roster at this point as well. Either on the first SmackDown Live after WrestleMania, or perhaps after another NXT storyline finishes (maybe involving Kairi Sane?), the Iconic Duo could make their debut and give the women of SmackDown Live another team to deal with.
With their stark differences from the Riott Squad, the Duo may be just the type of heels SmackDown Live needs that can find issues with just about anybody, while allowing another wrestler or two to turn face and provide the division with some further balancing. If Asuka remains on SmackDown Live there is already a built-in history to work with, aside from numerous possibilities in matches with Charlotte Flair and Becky Lynch, Naomi, or even finding some means to cause chaos with someone like Carmella.
While SmackDown Live has received criticism for its use of women in secondary storylines, the Iconic Duo provides an easy means to develop meaningful secondary storylines and fix this issue almost instantly.
Rather than being a temporary fix, Peyton and Billie offer options as individual championship contenders, a means to segue into adding a Women's' Tag Team Championship, or as secondary bullies who can continue what they do for NXT on the bigger stage. Depending on the direction WWE chooses to go in with SmackDown Live's authority figures, they can at worst have humorous interactions with the current figures, or at best have their own prominent storyline with someone potentially like Nikki Bella, if Daniel Bryan were to make the change into solely being an in-ring talent.
Andrade "Cien" Almas (with Zelina Vega)
No matter what happens at NXT TakeOver: New Orleans, El Ídolo should be an easy call as an early call-up, accompanied by Zelina Vega. Vega has been a godsend for Almas' NXT career and an integral part of his stellar championship reign. While Almas could seamlessly fit on either main brand, or even 205 Live, he seems like a perfect fit for SmackDown Live.
While he already has a history with cruiserweights like Cedric Alexander, he has an even better one with several SmackDown Live superstars. He made his debut match against Tye Dillinger, has faced Bobby Roode at an NXT TakeOver event, and at the Royal Rumble earlier this year, he eliminated Kofi Kingston of the New Day, and was eventually eliminated by Randy Orton. Almas can help with secondary storytelling in incorporating wrestlers like Dillinger who have largely been off of television, or he can shoot his way straight into a United States Championship program as the current program already involves Orton and Roode.
Depending on what direction SmackDown Live's tag division heads into, maybe the New Day addresses Almas ruining Kofi's latest creative maneuver to avoid elimination at the Royal Rumble. Even if it were a short-term piece, just imagine the possibilities that could come from Zelina Vega trading barbs with Big E, Kofi Kingston, and Xavier Woods.
Andrade "Cien" Almas is an electrifying performer who could easily be built up for a main event run down the line despite his size. While he would certainly be a draw anywhere on the cards for RAW or 205 Live, the stars seem to align for a SmackDown Live backdrop. He could put on clinics with the likes of Daniel Bryan, Shinsuke Nakamura, and AJ Styles. With Zelina Vega at his side, he could go on a tear somewhat reminiscent of Rusev's early pairings with Lana at his side. What better place is there to replicate Rusev's early success than the "Land of Opportunity", where every day is already Rusev Day?
No Way Jose
While No Way Jose hasn't been seen much on NXT television while dealing with injuries, he also hasn't had a lot of storyline time either. Then again, take a look at what Elias has done on RAW compared to what he was doing in NXT. Some superstars simply have better luck, or are simply a better fit for the main roster.
No Way Jose could easily be a mid-card star in NXT, especially with the new North American Championship, but even that scene is starting to get crowded as it is set to debut with a 6-man ladder match as it is. No Way Jose might make sense debuting in the lower or mid-card areas for RAW, but due to the current roster set-ups and these other potential call-ups, may be better suited for SmackDown Live.
While Elias is on his way to stardom on RAW, a similar dancing machine in Fandango is already on SmackDown Live. Interactions with Breezango or singles stars that seem to be missing meaningful storylines could write themselves. Additionally, wrestlers like Jeff Hardy, Samoa Joe, R-Truth, Big Cass, Dean Ambrose and Alicia Fox should all be returning from injury in the coming weeks, and with additional call-ups, RAW may just not have the time to use him properly.
No Way Jose could very easily receive the chance to debut strong against the likes of Dolph Ziggler, with Ziggler instantly hating the dancing act. His past partnership with Tye Dillinger could find a way to get him some screen time as well. Baron Corbin could also use a new opponent to get himself out of seemingly the same matches each week. If No Way Jose takes off properly, he could become a popular comedic act on a brand that has several already.
Ember Moon
While NXT may have Ember Moon perpetually intertwined with Asuka, Ember is a standout performer who shouldn't be exclusively tied to the Empress of Tomorrow. With Asuka likely to remain on SmackDown Live after challenging Charlotte Flair, Ember can quickly establish herself as a main event player on RAW.
While Bayley and Sasha Banks continue their developing program, Ember can take on Absolution and eventually Alexa Bliss, Nia Jax, or whoever else may hold the title once she has some momentum. With a relatively recent history involving Sonya Deville, Ember being the one to truly stand up to Absolution may write itself since her other most notable rivals would be keyed in for SmackDown Live. We can easily still find ways to get matches like Ember versus Asuka at Survivor Series anyway, even if they aren't true singles matches.
Ember didn't make an elimination at this year's Royal Rumble despite an electric performance, but with her devastating Eclipse as a finisher, she'll certainly make her presence felt on the main roster. While I'm expecting Shayna Baszler to take the NXT Women's Championship from her soon, NXT is also building a new crop of stars that can bridge the gap to handle her departure, along with the loss of others who should be on their way up shortly. Dream matches with Sasha Banks and Bayley in particular could be explosive, and RAW's women's division would receive an incredible boost in star power to account for Asuka's departure to the blue brand. If Nikki Cross does end up being brought up with SAnitY as well, the RAW women's division suddenly gains several storyline options to help fill the extra hour.
With the embarrassment of riches the WWE currently has in NXT, it's likely that all of these possible call-ups don't happen at once. With how different the storyline creation is for the main roster when compared to NXT, it's also likely that these superstars could end up being entirely on the opposite brands as well.
Of course, since this is the WWE, they may also swerve us all and give a call-up to someone completely unexpected or slowly drag the call-ups out over the coming months. Other wrestlers like Kassius Ohno, Velveteen Dream, Aleister Black, and Johnny Gargano all come to mind as potential main roster players.
With NXT's addition of a North American Championship, there is finally a mid-card title to utilize extra wrestlers who aren't currently competing for the NXT Championship as Black will at NXT TakeOver: New Orleans. Gargano has already made an appearance in the tournament to crown a new Cruiserweight Champion for 205 Live, and Velveteen Dream is already in the North American Championship ladder match as well. With the WWE's plethora of talent, anything is possible. With NXT's strong culture of development, that same wealth of talent isn't disappearing any time soon.