The WWE's 2018 Superstar Shake-up saw more than 30 names switch brands, including former WWE Champions, former Tag Team Champions, various former NXT Champions, and one former main roster Women's Champion. While the winner of the first Women's Royal Rumble and long-time NXT Women's Champion Asuka made the move to SmackDown Live, only one woman who has won a championship on the main roster actually switched brands. In the midst of Asuka, Mandy Rose, Sonya Deville, Zelina Vega, Ruby Riott, Sarah Logan, and Liv Morgan swapping brands (in addition to the call-ups of Billie Kay, Peyton Royce, and Ember Moon), Natalya made the move to Monday Night Raw.
Natalya Neidhart, the third-generation superstar of the legendary Hart family, left a brand that quite bluntly wasn't utilizing her in the best ways possible, and has already been injected into possible high-level storylines involving Ronda Rousey. The Superstar Shake-up smartly seemed to be more about maneuvering stars who didn't have solid storylines, or finding ways to better utilize the great talent on hand, rather than moving the biggest names possible for the sake of a reaction. There may not be a bigger beneficiary of this soft reset than the "Queen of Harts" herself.
Nattie is a veteran with solid mainstream exposure, who shines as brightly as ever when given the time to do so, as one might expect from most WWE-based graduates of the Hart Dungeon. Over the course of her career she has competed in the inaugural Women's Royal Rumble, the first "Diva's" Tag Team Tables match in the WWE, the inaugural Women's Money in the Bank Ladder Match, and the Six-Pack Challenge match which determined the first SmackDown Women's Champion. She was a part of the iconic "Divas of Doom" tandem with WWE Hall of Famer Beth Phoenix during the era of "Divas", and she has been a steady hand through the Women's Revolution and subsequent Women's Evolution.
She has been a scene-stealing cast member of the E! reality television series Total Divas since its inception, but more importantly to the wrestling world, she is a one-time WWE Diva's Champion and a one-time SmackDown Women's Champion. She is the first person to hold both championships even in light of the popularity of other stars who had overlapped in performing in both eras such as Nikki Bella and Paige.
While Natalya has an underappreciated and Hall of Fame-worthy career already, there's no reason for her to slow down any time soon. In recent months, the Women's Division on SmackDown Live had been a little stagnant for time and storylines, and the attempts to give Natalya a heelish character never seemed to properly develop despite the care she had taken in her portrayal. While liking cats and having an attitude seems like a somewhat generic character for a WWE screen, Nattie made due and largely carried a relatively lengthy program with Nikki Bella at the beginning of 2017, but disappeared at times from television.
She had an up-and-down program with Charlotte Flair as SmackDown Women's Champion in the latter parts of 2017, but seemingly due to time constraints, she was never quite given any true meat to use to further her character's development. While she may team with Carmella one week, she might seem like she was turning a corner and being a sympathetic face character the next week. These inconsistencies may be a running joke with a character like the Big Show, but when a character like Natalya isn't highlighted consistently, things like this can harm a viewer's interpretation of her character since they aren't sure if they're supposed to hate her as an annoying heel, or respect her for the work she has put in. The company clearly still holds her in high regard as they should, but she was a victim of the 2-hour timeslot of SmackDown Live, and was essentially a missing person at times if she wasn't truly involved in a story.
With Raw's 3-hour time slot, many of the former SmackDown Live superstars truly have a chance to be rebooted. What may have been a stop-and-start push or turn for Natalya before can now develop in a meaningful storyline, and her character can finally be allocated the time to breathe. In her Raw debut after being traded, the announcers played up her heelish tactics, but Ronda Rousey came out to make the save when Sonya Deville and Mandy Rose were taking liberties after her match.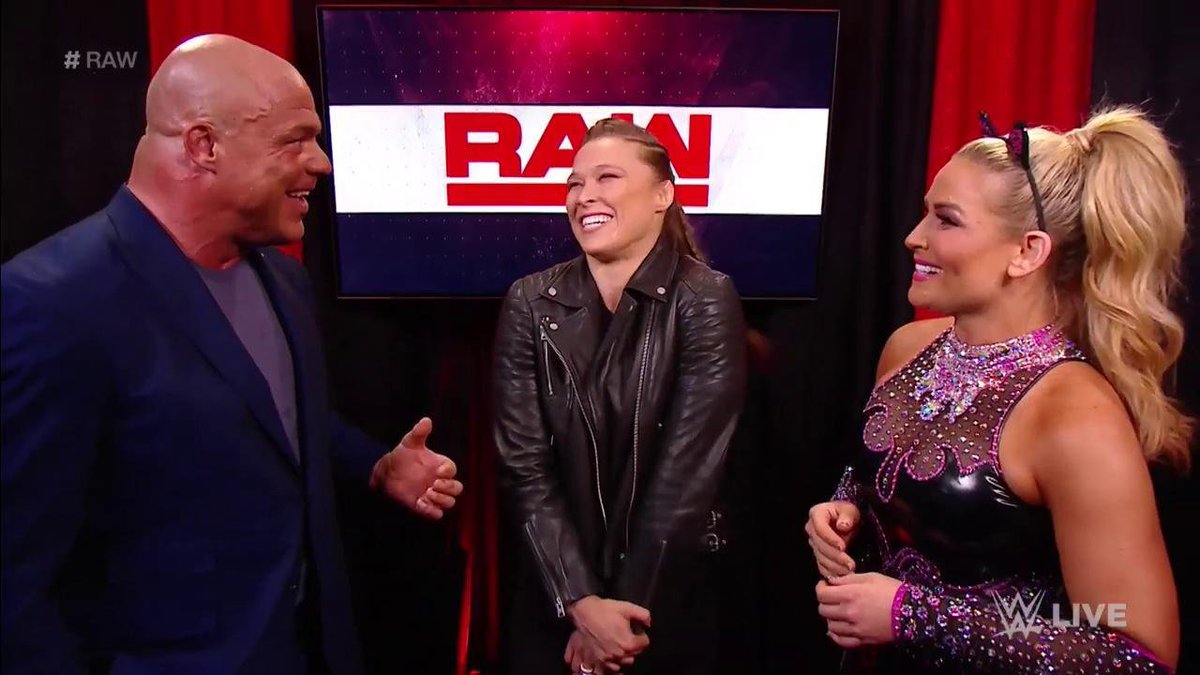 In a backstage segment prior to the match, WWE let viewers know of the pre-existing relationship Natalya had with Rousey as someone who helped train her for her WWE debut. Just by being on RAW with some extra time, there have already been complexities added to her character that finally just make her seem like a logical "tweener", rather than an inconsistently portrayed heel or face. By being coupled with Ronda Rousey even temporarily, her mainstream persona is highlighted once again, and she is set up for multiple storyline possibilities. If the pairing leads to Ronda's first solo program, the WWE could be hard-pressed to find a more suitable partner for the Baddest Woman on the Planet than the Queen of Harts.
Ronda has already posted on her Instagram in appreciation of Natalya's willingness to help train her in secret before the Royal Rumble, even showing Nattie start to apply the Hart family signature Sharpshooter submission hold. As stellar as Ronda was in her debut match at WrestleMania 34, Natalya is the perfect person to keep pushing her, to team with her in tag matches, and to help her develop her in-ring persona through making saves and reacting to or cutting promos.
Natalya is still a very sound technician in the ring, and any time spent with her is sure to help develop arguably the company's best mainstream main event attraction. While rumors persist of the company hoping to finally have the women's variation of the legendary Austin/McMahon feud via Ronda and Stephanie McMahon, Natalya can play a key role there as well aside from tagging with Ronda in various matches.
Natalya has options now and could potentially pair with Ronda Rousey to take on other teams like Bayley and Sasha Banks as they fight through their own issues, Mickie James and Alexa Bliss when they aren't dealing with Nia Jax and Ember Moon, or the Riott Squad as they look to be the dominant force on Raw. Natalya could find herself back in the Raw Women's Championship picture in the future due to the success she and Rousey may find together, or due to a potential betrayal down the line.
If Natalya were to say, join forces with Stephanie McMahon in the future, or if Ronda were to get headstrong in trying to prove she could do everything on her own, the two could have a fun program on a major stage like SummerSlam, which could show the world how great both women can truly be.
In a bit of fantasy booking on my part, if Nattie's association with Ronda during her Raw debut really wasn't a short term plan, let them work in a few tag matches together on the road to SummerSlam. Shortly before SummerSlam, after garnering sympathy despite the commentators' initial reservations about her true nature, Natalya could turn on Ronda after all. Feeling insulted by a public perception pushed by Stephanie McMahon that she "needs" Ronda as a sort of meal ticket at this point in her veteran career, Nattie could join forces with Stephanie McMahon as part of a shock-twist.
After one of Stephanie's famous verbal assaults, Nattie could snap in the ring and catch Ronda by surprise before locking her into a Sharpshooter until she passes out, in a callback to the iconic WrestleMania double-turn featuring Stone Cold Steve Austin, and Nattie's uncle Bret Hart. After a few weeks of getting bested by the veteran technician, Ronda could finally get her payback on the big stage of SummerSlam during a submission match.
In the event her pairing with Ronda Rousey was just a short-term way to establish a connection, it isn't like Natalya should simply fade away into the background. She can work programs with the likes of Ember Moon, Mickie James, Alexa Bliss, or even Nia Jax, potentially becoming the number one contender for Jax's championship if the company so chooses.
During the Women's Royal Rumble, Natalya value highlighted by the company, as she lasted in the match for the third longest time, behind only the "iron women" of the match, Becky Lynch and Sasha Banks. For context, her time of 25:34 was just under six minutes longer than the match's actual winner, Asuka, had achieved (19:41). She was a part of the group effort to eliminate Nia Jax, but also eliminated her former partner Beth Phoenix, as well as her former long-time rival Michelle McCool, who actually set the inaugural match's record with five eliminations. Getting eliminated by arguably the top women's wrestler in the history of the company, Trish Stratus, isn't exactly something to be ashamed of either. With the added context of Trish's other eliminations being the group effort to eliminate Nia Jax, and her former WrestleMania rival Mickie James, Nattie was elevated even in a losing effort.
Natalya's experience is a blessing for the company, and she will deliver as she has in the past, whether they choose to pair her with Ronda Rousey, their new Raw Women's Champion Nia Jax, or even as a steady hand in the ring for several of their more recent call-ups. With the Superstar Shake-up's focus on giving breathing room to characters that may have been lost in the shuffle previously, Natalya can finally have a true sense of direction that her current character didn't seem to be given at times before. While fans may have different feelings about Raw's 3-hour run time, it provides a critical opportunity for performers such as Natalya to finally have consistency once again.
Her in-ring work has been underappreciated for far too long, and the future Hall of Famer deserves the spotlight once again. Natalya has paid her dues, has been reliable for the company no matter which phase it is going through with its portrayal of women superstars, and she should get another shot in a high profile program sooner rather than later. Natalya may be the daughter of Jim "The Anvil" Neidhart, but she should get the opportunity once again to prove she's like her uncle Bret and try to back up the words she's taken from him; the best there is, the best there was, the best there ever will be.