After nearly 7 1/2 hours of pro wrestling at MetLife Stadium, Becky Lynch rolled up Ronda Rousey in a controversial finish to become both the WWE Raw and SmackDown Women's Champion and culminate another WrestleMania season.
Unsurprisingly, the crowd was zonked. With as much hype being generated for a WrestleMania where women would main event for the first time in a 'Winner Take All' match (with a superb trio of Lynch, Rousey, and Charlotte Flair), it felt a bit hollow as pyro shot off and the newly-crowned champ held her titles in the air.
There were highs and lows throughout the night, truly great moments like Kofi Kingston defeating Daniel Bryan to become the first ever black WWE Champion and then celebrate with his sons in the ring before promoting the latest New Day merchandise to commemorate the occasion. But with WWE cramming everyone on the card, it drags the night out and gives fans rushed matches that truly deserve more attention and time to tell the story.
With that said, we take a look at the night to give our thoughts on The Showcase of Immortals. For the sake of time, we're just going to focus on the main card. Pretty neat concept, huh?
WWE Universal Championship: Brock Lesnar (c) vs Seth Rollins
If you're not last on the card, you always want to be first. WrestleMania 34 ended with Lesnar walking out with the Universal title and WrestleMania 35 kick-started with him defending it.
Rollins got a special "BeastSlayer" entrance before proceeding to get demolished for about 10 minutes. Lesnar was in control until the ref got knocked out of the ring and then Rollins, a babyface, delivered a low blow and finished off The Beast with three Curb Stomps to win the title for the first time.
Here's the thing, most fans are thrilled to have the title off a part-time Lesnar. But WWE has spent nearly six years having this monster destroy their roster; clean wins over John Cena, Randy Orton, Braun Strowman, Samoa Joe, Undertaker, Roman Reigns, and more.
Reigns delivered so many spears and Superman Punches that did not put Lesnar away at WrestleMania 31 or 34. It took Reigns three years to beat Lesnar and now we're supposed to believe a guy who barely weighs over 200 pounds can defeat him?
Where is WWE supposed to go now with Lesnar now that he has been defeated by Rollins? The title change needed to happen as it transitions Rollins to have the title on TV every week but not sure Lesnar has much worth for future bookings anymore.
A.J. Styles vs Randy Orton
Outside of the main event, this was the match we were most excited about as we feel Styles and Orton are two of the very best in WWE. It wasn't any crazy spotfest that will go down in WrestleMania lore but it was fun and simple.
Styles kicked out of the RKO (probably everyone's favorite finisher) and managed to hit two Phenomenal Forearms over the course of their match for a win. It could have been more but still fun. We wanted a Styles Clash.
SmackDown Tag Team Championship: The Usos (c) vs The Bar vs Ricochet and Aleister Black vs Rusev and Shinsuke Nakamura
This was the typical match thrown together to get more stars on the card. Nothing memorable about it. The Usos retained but it would have been a pretty great starting point for NXT's Ricochet and Black to be get on the main roster as champions.
Shane McMahon vs The Miz (Falls Count Anywhere)
When it comes to Shane McMahon matches, fans only ponder one thing… "What crazy stunt will Shane do this time?" It was a bruiser of a match and both guys brought it as expected.
Miz picked up McMahon for a suplex off the scaffolding continuing the tradition of Shane's Mania death wish. They went flying over the edge and because Miz was on the bottom of the pile, McMahon was victorious via pinfall.
Fun match.
Women's Tag Team Championship: The IIconics vs Boss 'n Hugg Connection (c) vs Beth Phoenix and Natalya vs Nia Jax and Tamina.
Probably one of the biggest surprises of WrestleMania weekend. If you were a gambler, it's safe to say your money would have been on Sasha Banks and Bayley retaining. But before Phoenix hit a Glam Slam on Bayley from the top rope, Billie Kay tagged her from behind, Peyton Royce pushed Phoenix out of the ring and Kay sneaked in for the pinfall.
WWE Championship: Daniel Bryan (c) vs Kofi Kingston
This was the match of the night and it wasn't even close. A popular view on social media is that this should have closed the show instead of the women. However, the crowd still had a lot of energy at this point and were truly invested in the match. It was a great spot on the card.
The crowd was in full-blown support of Kingston, a huge contrast from when the fans were hijacking shows to push Bryan to the main event of WrestleMania 30.
Cameras kept cutting to the back where the locker room was standing around the TV watching and cheering on Kingston. After 20 minutes of drama and near falls, Kingston hit Trouble in Paradise and won. The crowd erupted, Kingston and his partners Xavier Woods and Big E were overcome with emotion as they brought him the WWE Championship with his own personal side plates (get lost, hemp title), and brought Kofi's kids in to celebrate and push brand new merchandise.
United States Championship: Samoa Joe (c) vs Rey Mysterio
This match was shorter than it took for Rey Mysterio to get to the ring. Samoa Joe caught Mysterio from the top rope and then choked his little ass out to retain.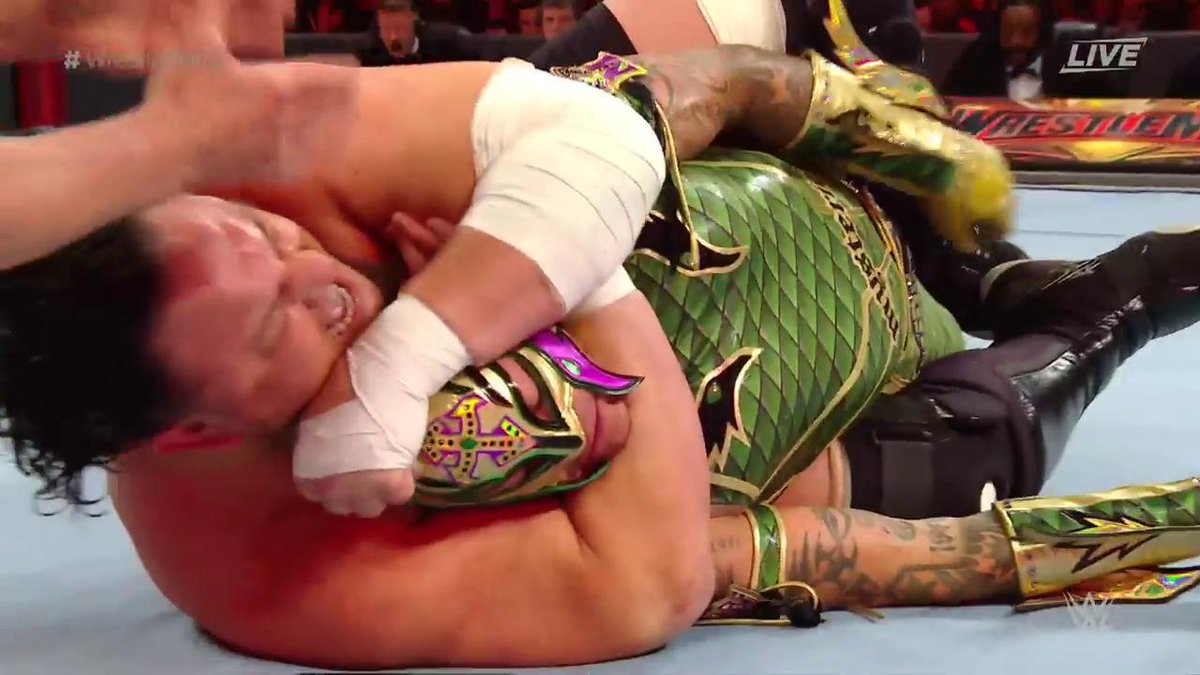 Roman Reigns vs Drew McIntyre
Ideally, this would have been best served as a banger between two big men for the Universal Championship. But after being out for six months while he was fighting cancer, Roman Reigns and McIntyre delivered a short filler match where Reigns was victorious.
Some critics believe McIntyre should have won but this WrestleMania was all about seeing the babyfaces win and it's hard to argue with Reigns being booked to win considering he could use the momentum and for the fact that he already took a beating last year in a loss to Lesnar.
The Dr. of Thuganomics Returns
Hands down, John Cena's nod to his old character was a top five moment for us at Dirtfork.
After a video of Yankees great Babe Ruth calling his shot hit the screen, "Word Life" boomed throughout MetLife Stadium and out came John Cena in a Babe Ruth throwback jersey, a backwards cap, and a chain around his neck.
He proceeded to destroy Elias, a guy who seems to only exist to get dunked on. Cena brought out his rap game, proving yet again, that he is better than Eminem. In an interview afterward, Cena said that he just wrapped a film on Thursday and didn't want to do anything via satellite. What other way to show you're one of the greatest WWE stars of all-time than to hit them with some Thuganomics?
Triple H vs Batista (No Holds Barred)
The stakes were high in this one. With the feud reaching intense levels after Batista attacked the "Nature Boy" Ric Flair on his birthday, Triple H put his career on the line and pulled out all the stops.
It wouldn't be a Triple H match without a epic WrestleMania entrance. Paying homage to Mad Max, Triple H came to the ring in this.
For two guys nearing 50, Batista and Triple H delivered the second best match of the night in what bordered on intense violence and total depravity. Triple H used players to rip out a nose ring. Totally sick.
Ric Flair would come to Triple H's aide and help him defeat Batista, ensuring that we will get more awesome Triple H entrances. On Monday, Batista announced his retirement from WWE and thanked the fans.
Baron Corbin vs Kurt Angle (Retirement match)
There's not much to say other than it was a horrendous way for Kurt Angle to end his career. No one wants to see their heroes go out in a pitiful match and lose against a guy that dresses as a TGIF server.
Intercontinental Championship: Finn Balor vs Bobby Lashley (c)
Again, they were just rushing through matches at this point. It lasted all of four minutes with Balor winning the Intercontinental Championship but at least we got to see The Demon entrance at WrestleMania for the first time. It's far better than opting for the t-shirt promotion entrance at WrestleMania 34.
Winner Take All: Becky Lynch vs Ronda Rousey (c) vs Charlotte Flair (c)
WWE did everything imaginable to give you a big fight feel. Paying tribute to her father Ric Flair who arrived at Charlotte Memorial Stadium a the 1985 Great American Bash via helicopter to face Nikita Koloff, Charlotte put her own spin on it.
Camera cutting to her in the chopper with her game face on, it lands, the red carpet gets rolled out for her because she is wrestling royalty. She's the Queen and we will not pretend that we're extremely biased toward Charlotte. Huge fans. The greatest of all-time in the division.
Ronda Rousey, the baddest woman on the planet, gets a live Joan Jett performance to walk out to and makes you feel like she owns the place.
"The Man" Becky Lynch did not need a fancy entrance. She was dressed to kill and dressed to take home two belts.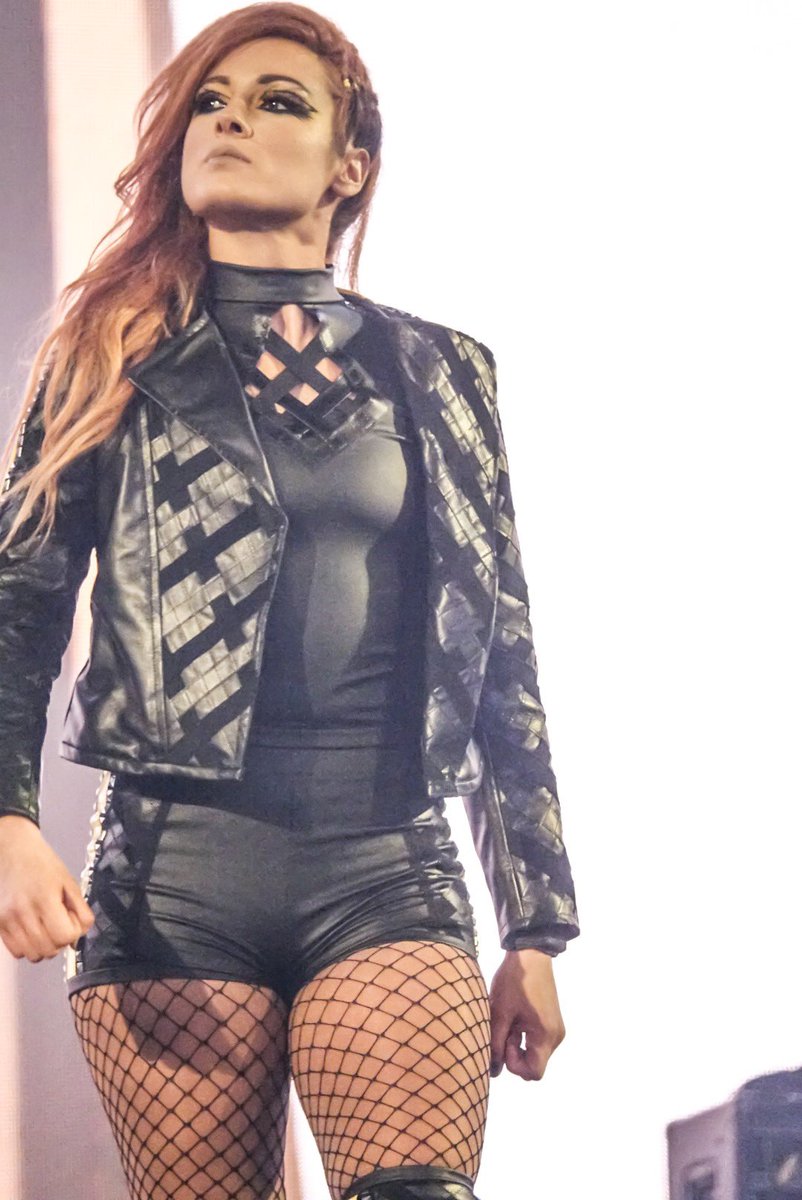 All three women killed it. Rousey was incredibly stiff though. Those punches and kicks were legit. And she took a beating from Charlotte and Becky as well. Rousey was bleeding from her arm and leg, had bruises all over her from the physicality.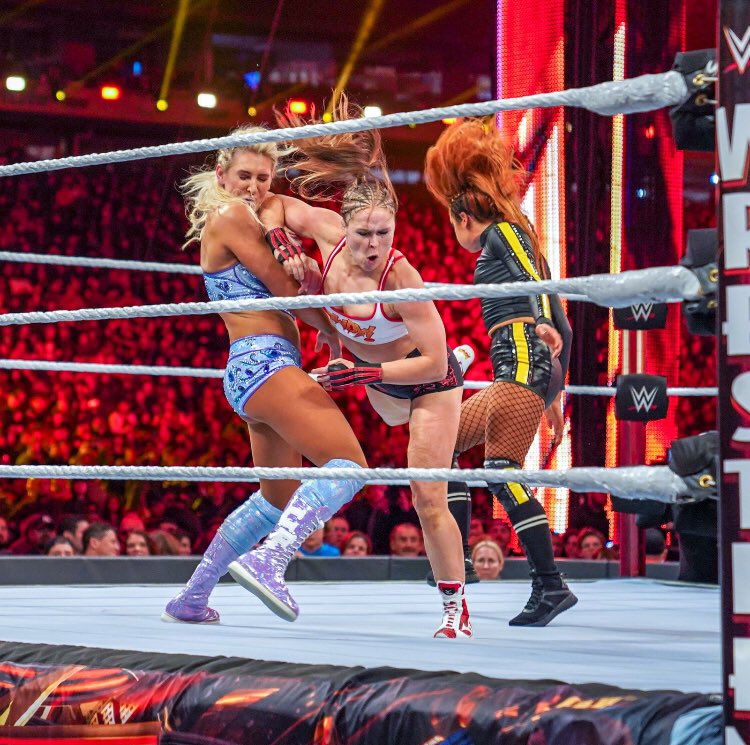 But how this historic match will be remembered is the abrupt finish. Rousey's shoulders were not down when the referee started the count of Lynch's pinfall. Rousey looked angry and legitimately upset. This, of course, has dirt sheets trying to act as if this wasn't planned, which is absolutely ludicrous. A referee is not going to mess up the planned finish for this match.
Although it's surprising that Charlotte wasn't the one to take the loss and to see Rousey get pinned for the first time in her WWE career, everyone expected "The Man" to leave as champion. This way it sets Rousey up to still look strong down the road and send fans home happy (a change from recent WrestleManias), it's a bit odd to have a dusty finish as the sendoff for WWE's biggest show of the year.
Final Thoughts and Rankings
WrestleMania 35 will receive mostly positive reviews due to who WWE booked to win throughout the show. That tends to skew the perception of how things are executed. We, on the other hand, thought it paled in comparison to the last handful of WrestleManias.
Sure, it was fun. WrestleMania is always fun. WWE knows how to put on a show. But the stage wasn't anything special like it was in New Orleans, not many great matches occurred, and it lasted incredibly long.
With that said, there were certainly some WrestleMania moments and high spots.
Kofi Kingston defeating Daniel Bryan. This IS the WrestleMania moment.
Triple H's Mad Max entrance
Charlotte's WrestleMania entrance by helicopter
John Cena bringing back Thuganomics
Triple H vs Batista
Winner Take All: Becky Lynch defeats Rousey and Charlotte
Seth Rollins slays The Beast
Miz delivers a suplex off the scaffolding
Hulk Hogan returns
The Demon debuts at Mania